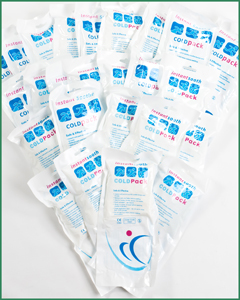 Here's a cool offer from Physical Sports – when you spend more than £100 on sports first aid gear we'll give you 25 Instant Soothe Instant Cold Packs for free!  At our normal prices 25 instant cold packs would cost £22.50, so this is an excellent deal for sports first aiders and sports teams.
How do Instant Cold Packs Work?
Instant cold packs are a great way to provide rapid cold therapy to sports injuries.  All you need to do is squeeze the bag, shake it up and the cold pack becomes very cold, very quickly.  Instant cold packs are light, compact and require no refrigeration so they are ideal for use on the touchline – just keep them in your first aid kit or sports bag and pull one out when you need it.  Our Instant Soothe brand cold packs are particularly good for sports injuries because they're long and flexible – which makes them perfect for wrapping around wrists, ankles, elbows and knees.
Why Use Cold Packs on Sports Injuries?
Applying cold to an injury will limit swelling, bleeding and tissue damage, which can improve recovery and reduce loss of function in the injured limb. Cold also has the welcome effect of numbing pain.  Most first aid guidelines suggest using an ice pack for about 20 minutes at a time, and Instant Soothe Instant Cold Packs will stay cold for more than long enough to achieve this.  See this sports injuries treatment guide from the NHS for info on how cold therapy fits in to the procedure for treating minor injuries.
Because they are single use, instant cold packs may be more hygienic than reusable cold packs or ice bags.  Reusable cold packs risk passing bloodborne pathogens between users – especially in a sports injury context where bleeding is common – whereas an instant ice pack contaminated with blood is simply thrown away.
How to Claim 25 Free Instant Cold Packs!
To claim your 25 free instant cold packs just quote "Free Ice" in the order instructions/comments section when you go through checkout.  (Note – this is not a coupon code so don't put it in the coupon code box.)  You can use this free ice offer in conjunction with any of our other discount offers as long as the final value of your order is over £100.